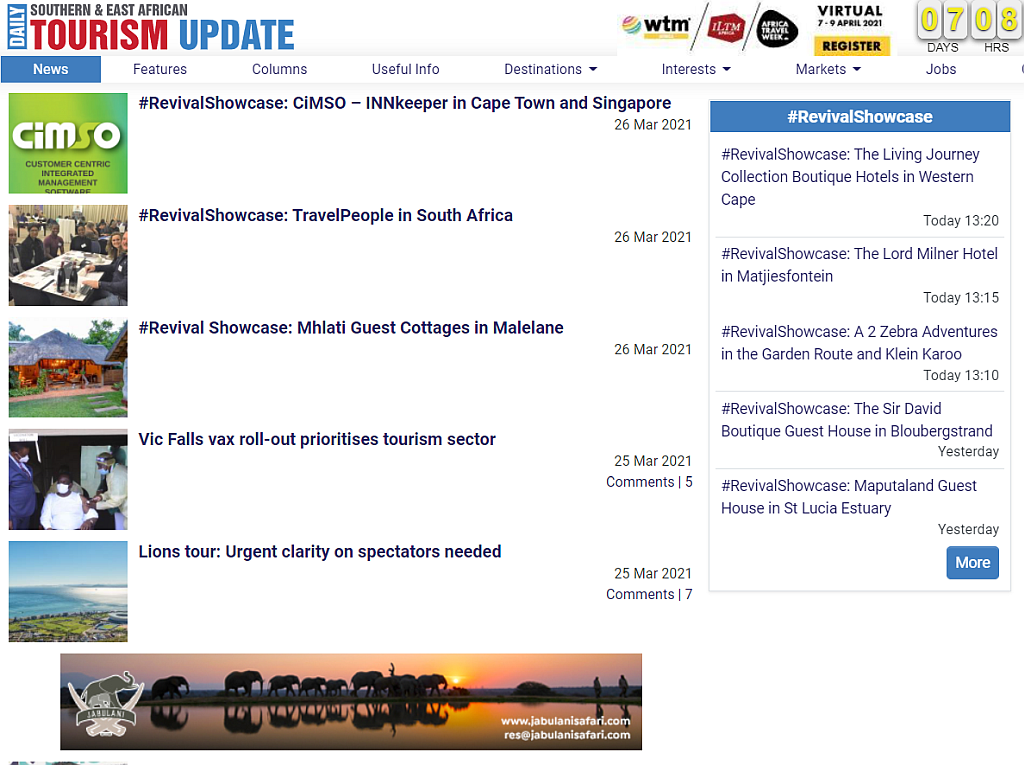 Tourism Update features CiMSO software solutions in the hotel industry
26th April 2021
Johan Marais
The latest Tourism Update features CiMSO software solutions in the hotel industry in its latest publication, dated 26 March 2021. "Read all about it." "Get your news here."
Tourism Update runs a program that allows companies to share their value, feature products and services to the industry. And, as a result, it helps build visibility both, in the tourism industry and for its suppliers. This campaign is called "#RevivalShowcase."
The article describes how CiMSO Business Solutions provides integrated Business Software Solutions to different types of properties. And examples include, but are not limited to, golf clubs; hotels; game parks; retail as well as financial institutions.
A benefit of fully integrated software is that customers can manage all departments of their business in one place. With a single guest bill, so allowing all departments to charge to a single guest account. Now that is efficient and effective.
CiMSO's software solutions in the following critical areas:
Front desk; restaurant; bar; stock management; procurement; asset management; financial management; activities; spa; golf and events management.
CiMSO's service and support:
Cimso provides support to customers via phone; email, and the internet. Because customers prefer to pick up a phone and talk to a consultant, CiMSO offers 24×7 emergency support. This means having a support consultant just a phone call away. How is that for service delivery?
CiMSO's software services include:
Setting-up the system, installing the software, the training of staff, and ongoing help-desk support.
CiMSO in Tourism Update is a highlight for the company. So, more importantly, CiMSO plans to feature on a regular basis. And the result will be to show the hospitality industry CiMSO's commitment.
So, in conclusion, customer commitment, and communication are key. By means of these publications, Cimso plans to create more visibility into the Hospitality sector, so to increase awareness of what CiMSO can do for you.