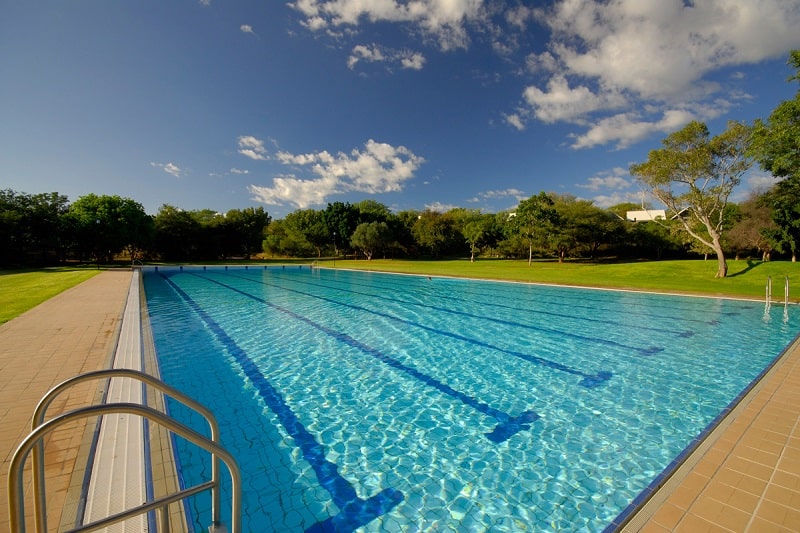 Kupferquelle's Olympic swimming pool and multi-key room facilities
7th November 2022
Geraldine Vickers
Set in Tsumeb, Namibia Kupferquelle Resort offers an extraordinary Olympic swimming pool and multi-key room facilities. This ideal family-friendly resort belongs to the Henning family and it was developed into a touristic, luxurious resort. Kupferquelle Resort is in every sense an unusual resort in Namibia. They combine the rustic charm of Namibia with the most sophisticated demands made of a relaxing and exciting resort.
The 8 fifty-meter lap swimming pool
The refreshing 8 fifty-meter laps swimming pool is one of the largest pools in Namibia resort history. The meaning of Kupferquelle is "Copper Fountain" and also relates to the copper and iron found in Namibia. The swimming pool is related to the meaning "tsomsoub", which means "to dig a hole into the ground". This swimming pool is the best cooldown mechanism for all resort guests, especially after a long-hour drive. The pool is a special highlight at the resort because it is one of only three swimming pools of this size in Namibia.
Multi-key rooms for bigger families
With the luxurious and affordable Multi-key units you can relax and unwind with the family in the most spacious rooms that the resort has to offer. The rooms are not only a treat for the eye from the outside, but the detailed interior design radiates the modern Namibian charm. The resort accommodates, 10 suites, 10 twin and triple rooms, 40 standard or double rooms, and 25 camping sites.
Modern bonus facilities
Besides the multi-key rooms and the extraordinary swimming pool, you can enjoy a rustic, colourful, and rich-in-detail lunch or dinner at the DROS Steakhouse. Enjoy looking at the a la carte menu by sitting in the restaurant or outside on the veranda. For an exceptional conference experience, the resort offers two spacious conference rooms each equipped with a screen, internet facilities, and flip charts.
Kupferquelle also makes life easier by providing their guests with a convenience store, and washing rooms with laundry facilities.
Kupferquelle is managed through CiMSO's Software Products:
This family-friendly makes use of CiMSO's software products to manage its wide range of facilities through:
Contact us
CiMSO supports clients in the transition from fragmented legacy software systems to integrated ERP solutions. CiMSO also manages the successful deployment of new systems in compliance with their ISO90003 Quality Management Systems and PRINCE II project management methodologies.
Please contact your local CiMSO office or Value Added Reseller for more information on CiMSO's Integrated ERP Software Suites for Hotels, Lodges, Resorts, Clubs, Timeshare, and Leasing management.