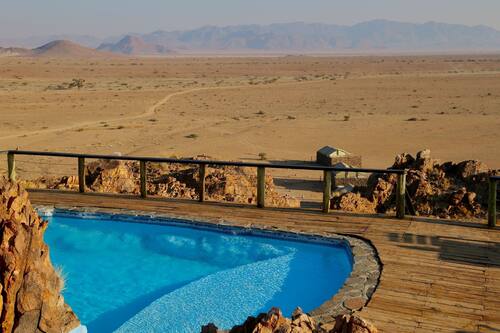 The Elegant Collection selects CiMSO INNkeeper software
5th November 2021
Geraldine Vickers
The Elegant Collection recently selected INNkeeper, part of the CiMSO Rest Suite, as their hospitality and lodging software solution.
More About The Elegant Collection
The Elegant Collection manages a collection of properties situated across Namibia. Established by a group of passionate Namibian entrepreneurs, the properties combine the founders' passion for travel and tourism with simple elegance and excellent service.
Their mantra is simple yet profound: offering extraordinary experiences for ordinary people. They focus on offering the best value for money in key tourism areas, creating memorable experiences and providing genuine Namibian hospitality.
The Best Integrated Solution
The Elegant Collection kicks off 2022 using CiMSO's Integrated Management Software Solution to manage their Desert Lodge, Guest House, and Desert Camp.
The Elegant Collection selected several products from the CiMSO Rest Suite – CLIENTmanager to maintain their CDP – customer data platform – and to manage their CRM – client relations management. INNkeeper the PMS – property management system for managing lodging, front office and maintenance. Reservations are processed online, at the properties or at the Central Reservations Office. INNsync synchronizes their CDP and BACKoffice accounting across the group, with centralized control at the Head Office in Windhoek.
The Collection offers various activities such as the Sossusvlei excursion, hot air ballooning, signature scenic sunset drives and hiking trails along the infinite open plains and mountains. Activities are scheduled and managed using the ACTIVities software from the CiMSO Play Suite.
Contact us
CiMSO supports customers in the transition from fragmented legacy software systems to integrated ERP solutions. CiMSO also manages the successful deployment of new systems in compliance with their ISO90003 Quality Management Systems and PRINCEII project management methodologies.
Please contact your local CiMSO office or Value Added Reseller for more information on CiMSO's Integrated Software Suites for Hotels, Lodges, Resorts, Clubs, Timeshare, and Leasing management.