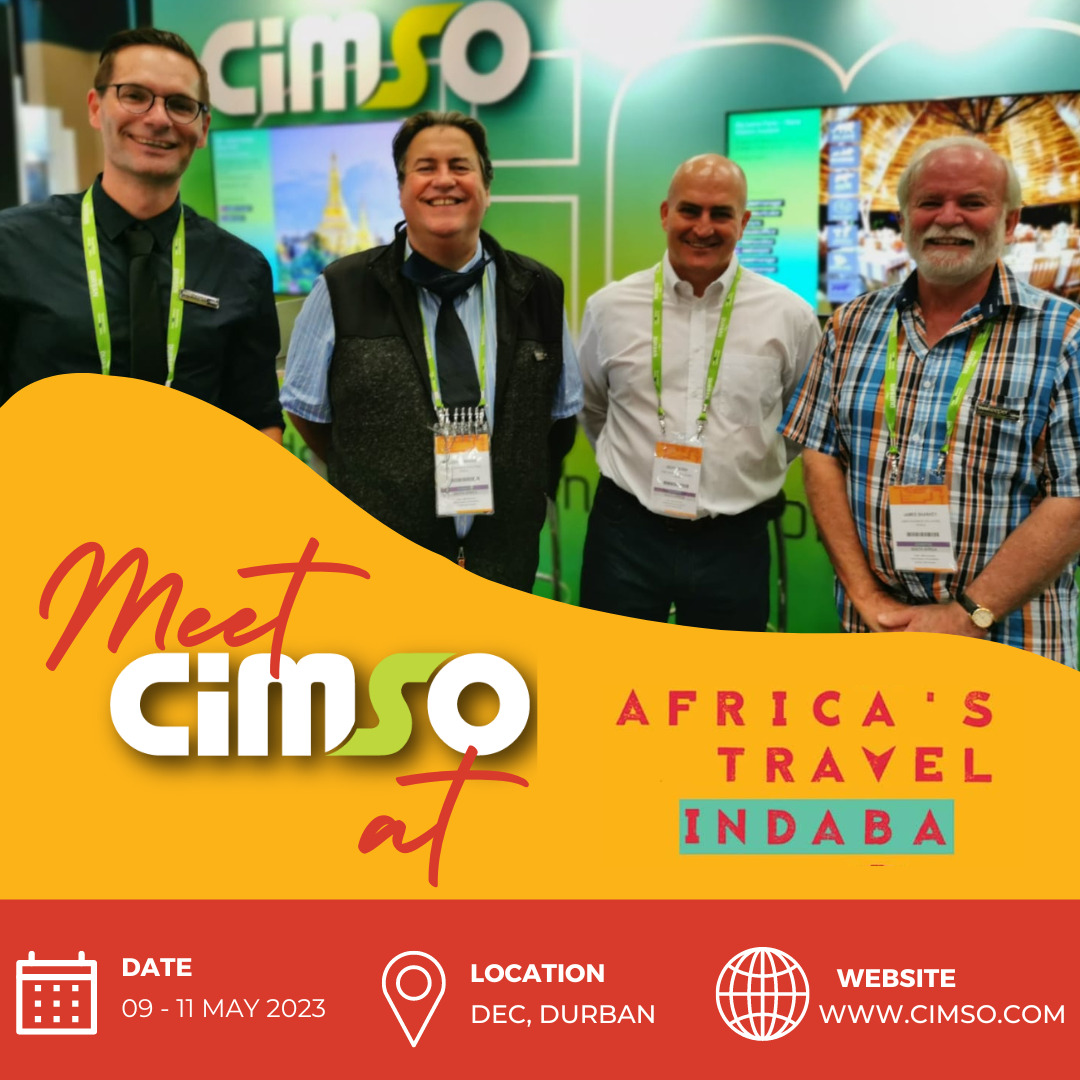 Meet the CiMSO team at Africa's Travel Indaba 2023
3rd April 2023
Geraldine Vickers
CiMSO Business Solutions will attend the 2023 Africa's Travel Indaba Expo, in Durban, South Africa, from 9-11 May 2023. This event is one of the most significant tourism marketing events in Africa. It offers an exciting opportunity for us to showcase our Integrated Hospitality Software Solutions and connect with businesses in the industry.
As a leading provider of Hospitality Software Solutions, including the popular CiMSO INNkeeper, we are excited to be part of this premier event for Africa's travel and tourism industry. Our software is designed to provide an integrated approach to hospitality management, streamlining operations and improving efficiency for hotels, guesthouses, lodges, resorts, and other businesses in the industry.
During the expo, we will showcase our software and demonstrate how it can help businesses in the travel and tourism industry optimize pricing, manage inventory, and improve customer experience. Our team of experts will be on hand to demonstrate the software's features and capabilities and answer any attendees' questions.
Why CiMSO's priority is to attend Africa's Travel Expo?
Attending Africa's Travel Indaba gives CiMSO the opportunity to:
Do face-to-face marketing and sales to meet with the most influential buyers in the world and to gain access to Africa's excellence and its endless possibilities
Build our business through the Indaba targeted matchmaking program by targeting specifically the Hospitality Industry
Create brand awareness by introducing and demonstrating our Fully Integrated Hospitality Management Software to potential clients
To educate buyers on our current and upcoming solutions that are in the process of being developed
To expand our marketing database nationally and internationally and to search for passionate and motivated individuals that would like to join our reseller network
To meet and provide support to our existing customers also attending Indaba
CiMSO Business Solutions is thrilled to attend the Indaba, and we look forward to learning more about the unique challenges and opportunities facing the travel and tourism industry.
CiMSO invites all attendees to visit our booth to learn how we can help businesses streamline operations, improve efficiency, and enhance customer experience.
Contact us
CiMSO supports clients transitioning from fragmented legacy software systems to integrated ERP solutions. CiMSO also manages the successful deployment of new systems in compliance with their ISO90003 Quality Management Systems and PRINCE II project management methodologies.
Don't hesitate to contact your local CiMSO office or Value Added Reseller for more information on CiMSO's Integrated ERP Software Suites for Hotels, Lodges, Resorts, Clubs, Timeshare, and Leasing management.