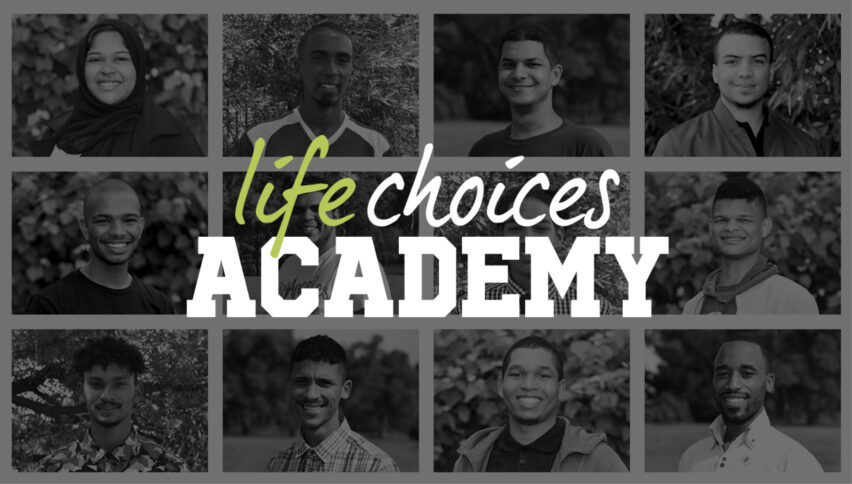 CiMSO engages with the local community and interviews Life Choices Academy's placement and partnership officer
Life Choices Academy is a unique NPO committed to supporting students in achieving academic and personal success. Their mission is to equip school leavers with the skills needed to increase their employment opportunities and job security, specifically in web development and programming, through an extensive boot-camp program.
They have gained valuable insights into the often-undefined space between academic studies.
Collaborating with students who have completed the Life Choices Academy program is a privilege for any business, and CiMSO Business Solutions is no exception. Through their interviews with Life Choices Academy, they have gained valuable insights into the often-undefined space between academic studies, internships, and employment.
They can identify the skills and experience that are most valuable to employers.
By exploring this space, CiMSO Business Solutions is helping bridge the gap between education and the workforce and providing valuable guidance and support to students transitioning into their careers. Through their collaboration with Life Choices Academy, they can identify the skills and experience that are most valuable to employers and help students develop these skills in a relevant and practical way.
Through an interview conducted by CiMSO with Life Choice's Placement and Partnership Officer Ehrin Manuel, the well-researched and tested processes have been perfected.
Life Choices follows a comprehensive checklist when searching for a company to partner with and place interns. Some of the criteria we consider include the following:
Ideally, the internship with the host company should last at least six months.
A hosting company should be open to hosting the intern in any of the following models: an on-site, remote, or hybrid model.
The intern should be remunerated with a minimum salary of R6000 per month, which should be paid directly to the intern.
Upon completing an internship, the company should consider extending either a full-time employment contract or an extension onto a formal agreement, provided that the intern has demonstrated competence, reliability, and a good fit with the company's culture and values.
And a hosting company that believes in tackling youth unemployment through granting opportunities and developing youth to get bonus points.
"We aim to target companies, ideally in the tech space, to ensure that interns from Life Choices Coding Academy continue their learning in the ITC field and hopefully secure employment. We are also open to companies in other sectors with Tech/IT divisions that could host interns wanting to pursue roles within the ITC arena," says Manual.
How does Life Choices determine which student is suitable for a particular company? Is the process based on trial and error?
It's not a trial and error process, as each internship opportunity is well thought through. We have access to an in-depth pool of information on their technical ability and soft skills, which we would use to cross-reference with the job spec and criteria the potential host company provided.
We offer partners access to our talented candidates through interviews and screening processes.
Our students develop a portfolio of work built as a website to showcase their skills and what they do during the course. The portfolio will give you a feel for who they are, the tasks they completed, and an overview of their abilities. i.e.
We also offer students the opportunity to review the opportunity to ensure they are also interested in it.
We recognize that not every appointment is 100% aligned and always offer support during the internship to assist with cultural challenges.
Could you offer any guidance for companies seeking to employ interns?
Be supportive; provide mentorship and personal support – get to know where they come from, how they manage stress, and their needs for success.
The structure of an internship leads to success.
Provide clear and concise job descriptions and key performance indicators (KPIs).
Regular engagement and performance reviews, check-ins and feedback allow the intern to stay on track, address any issues or concerns, and receive guidance on improving their performance.
Implementing a learning or upskilling calendar during work or after hours can unlock more work potential for interns.
Provide career guidance regarding skills and reflections to help the intern identify their strengths, weaknesses, and aspirations.
Providing fair remuneration shows that the host company values the intern's contribution to the company; it can motivate the intern to perform at their best and allows interns to focus on their work without worrying about the financial strains often associated with unpaid internships.
Collaborating with Life Choices has brought great opportunities for our company and the learners. We've received numerous candidate referrals from Life Choices, giving us a vast pool of potential interviewees. Additionally, the unique support system at Life Choices has been instrumental in alleviating our human resource needs for the interns.
Contact us
Don't hesitate to contact CiMSO for more information on our client-centric, integrated CDP ERP management software for Hotels, Lodges, Resorts, Clubs, Timeshare, and Leasing management.