CiMSO's integrated point of sale solution
23rd April 2016
Johan Marais
One of the CiMSO Suite programs includes a complete point of sale solution, called RESTaurateur, which can be fully integrated with your front office functionality within INNkeeper, allowing you to charge beverages & meals to a guest-folio, to be included and specified on their invoice.
Our RESTaurateur customers enjoy the ability to receive warnings if a certain stock item runs low so that waiters not to sell "out of stock" items. RESTaurateur is fully integrated with CiMSO's STOCKmanager.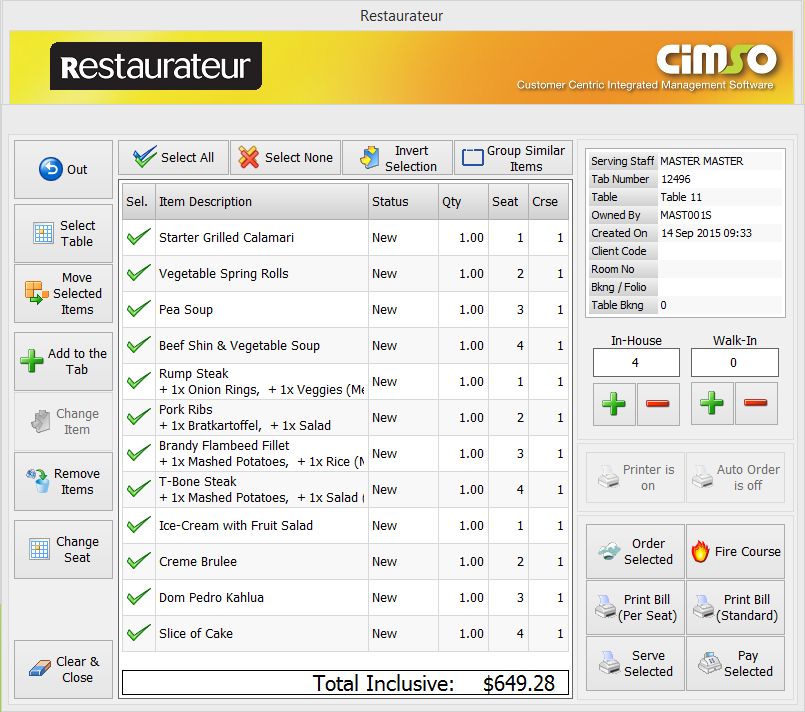 Whether you are providing À la carte, buffet, fast-food/takeaway, tavern, bar or even Teppanyaki-style restaurant, CiMSO's RESTaurateur is an easy to understand solution with excellent functionality, based on your business needs, including "Fire Course", cash-up and sharing-of-bill/chairs functionality.
CiMSO Business Solutions will set-up your point of sale solution, based on your business' requirements.
Feel free to contact us to demonstrate how you can utilize RESTaurateur's functionality to increase your guest experience through your INNkeeper Software.