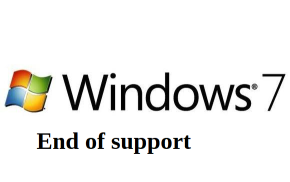 Impact on CiMSO customers
1st April 2020
Johan Marais
As of 14 January 2020, Microsoft discontinued support for all releases of Windows 7. The risk for your business of operating any hardware on an obsolete operating system(OS), increases substantially.
CiMSO Business Solutions recommends upgrading any workstations or servers using Windows 7, to the latest revision of Windows 10 for the following reasons:
Maintain the safety and integrity of your information
Minimize any unscheduled downtime or catastrophic loss of data
Stay current on the latest OS security features and updates to protect your systems
Receive support from Microsoft
Because of Microsoft's announcement, CiMSO will not be able to provide further development, updates and support on hardware still running "end-of-life" versions of Microsoft Operating Systems, for example Windows 7.
Please contact your local CiMSO Business Solutions support team should you require more information.